Seef Mall, the leading family destination in the Kingdom of Bahrain, announced the winners of the first raffle draw of the 'Seef 1000' campaign that will run until the 31st of October at Seef Mall, Muharraq.
Each of Mr. Mohammed Abdulla Saif, Ms. Eman Mohammed Sanad, Mr. Hasrat Ali Fateh, Ms. Maysa Saad Dawa, Mr. Tariq Abdulla Al Aidan, Ms. Hind Abdulla Abu Alfateh and Ms. Alya Abdulla Al Marzooqi won cash prizes of BD 1,000. The raffle draw took place in the presence of Seef Mall's management and a representative from the Ministry of Industry, Commerce, and Tourism.
Additionally, shoppers still have the chance to enter the raffle draw and win BD 1,000 in cash every day when spending BD20 or more at the mall.
"On behalf of Seef Properties, I would like to extend my sincere congratulations to the first 7 winners of the 'Seef 1,000' Campaign. We encourage all visitors to shop during the campaign to increase their chances of winning. Seef Mall aims to offer attractive prizes for shoppers as well as increase the number of prizes as a gesture of appreciation to its loyal customers," said the Chief Executive Officer of Seef Properties, Mr. Ahmed Yusuf.
"The 'Seef 1,000' campaign is the first of its kind to be hosted at Seef Mall, Muharraq. Shoppers still have the opportunity to enter the raffle draw and win BD 1,000 each. We look forward to introducing more of these unique campaigns in the coming future," he added.
Seef Mall aims to host a series of events and campaigns throughout the year in order to strengthen the retail sector and further position Seef Mall as the leading destination for shopping and entertainment in the Kingdom.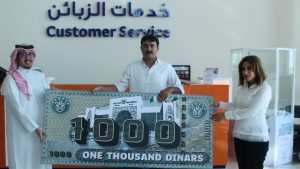 Seef Mall, Muharraq is considered as the leading shopping and entertainment destination in the Kingdom of Bahrain since 2015. It attracts a large number of visitors through its diverse selection of brands, restaurants, and entertainment facilities for adults and children to enjoy.