In the makeup and beauty world of Bahrain, Zahraa Hubail has made her mark with her unique talent and exceptional makeup techniques. The only female make-up artist in Bahrain specialised in special effect and airbrush make-up, she has been the runner up at the BeautyWorld Middle East Makeup Competition for two consecutive years. An expert in permanent makeup like eyebrows, eyeliners and lip tattooing that require fine and delicate touches, she is better known as a fine artist in revealing the best of the beauty of a woman. Bahrain This Week caught up with Zahraa, where she shared with us all about her expertise in adding special effects to makeup.
 What inspired you to take the Special Effect makeup course?
Well, makeup is a continuous art, and mastering one aspect from it inspires me to look for further challenges and techniques in this field. Since I had always been a fan of special effects we get to see at the movies, I went to study the art of applying these effects professionally to enhance my skills and become one of those unique artists in the region. I find that special effects makeup stimulates the creativity and imagination in an artist and I am in love with creating the unexpected look on any face or body.
How was the experience with the Manchester School of Makeup?
It was a great experience. Meeting various makeup artists from countries around the world helped to share many new techniques. One of the major criteria of getting entrance into the Manchester School of Makeup was to be a well experienced professional makeup artist. This had led to the creation of a pool of highly experienced makeup talents from different parts of the world. So meeting and interacting with several experienced makeup artists made me very happy.
What kind of looks do you prefer doing?
I do all kind of looks but my personal preference is the Zombie makeup. It is scary and challenging at the same time. Also it makes me use my imagination and creativity to the best. Since there are many movies made on zombies, this particular makeup has always been popular and in demand.
Can you explain in brief about airbrush makeup?
Airbrush makeup is a kind of makeup done by using the airbrush machine. We can do many things starting from the eyebrows all the way to tanning the whole body. We can also do airbrush tattoo, drawings and even pictures on the body. The colour can stay from three days to one week depending on how you take care of it. It is very sensitive and requires careful movements because of the way that the makeup is spread by the machine. The artist's hand must be controlled carefully to end up with a perfect result.
Some of the makeup art you have created looks scary. Any unforgettable experience you would like to share with us being a special effects makeup artist?
The two special effect looks I created; a Vampire look I created on body building champion Mr. Sami Al Haddad and an 'eaten face' on my daughter, have been the unforgettable ones. Many of those who had seen my daughter's face felt uncomfortable because it was so very natural and scary.
Which has been the most challenging project of yours so far? And Why?
To be honest I consider all projects challenging because I want the end results to be as perfect as possible. I am very particular about the fine details of makeup, therefore I never compromise on quality for anything else.
You look like a model but you're a makeup artist, do photographers ask you to get in front of the lens?
Thank you for the compliment! To be honest, I have so far not been asked to model directly. I believe each profession must be taken separately to master and be professional about it. If I want to be a model, a makeup artist, a photographer and, so on, then I will not be able to focus and concentrate on any of them. So I prefer to be a professional makeup artist and be the best in my field.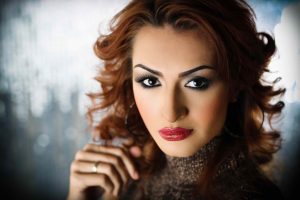 Any tips on how girls can achieve a look that is both "cool" and parent-friendly?
It is a very simple tip, do not overdo makeup. Keep it as natural as possible. Also keep up with the symmetry of your face; I mean draw both halves of your face exactly the same.
Any makeup tips you'd like to share with us?
When you buy any product, buy the popular one to avoid skin irritation. Also when you try the product do not try it on your hand thinking that it will give you a good result. Try it on the areas around your face or neck, where you want to apply them. Always remember, there is always a difference in skin colour of the hand and the face.