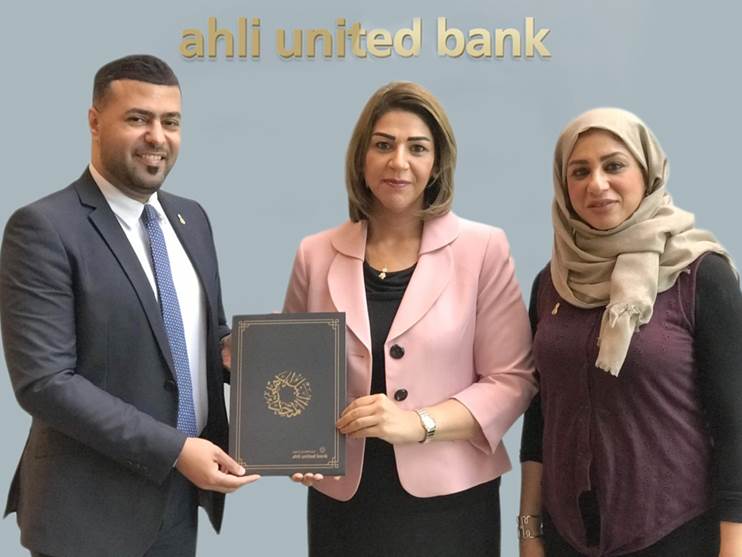 Ahli United Bank (AUB) donated to Bahrain's Smile Initiative, an initiative of Bahrain Future Society for Youth which provides psycho social support to children with cancer and their parents in the Kingdom of Bahrain.
Ms. Naseema Haider, Head of Private Banking at AUB, delivered a donation check to the Chairman of the Board of Directors of Future Society Mr. Sabah Al Zayani, in the presence of Board member Ms. Safa Al Nasser.
Ms. Naseema said in a statement that AUB is omitted to support initiatives aimed at serving the most vulnerable of Bahraini Society, cancer patients, as part of Bank's social responsibility towards the Kingdom of Bahrain.
"We are delighted to be able to contribute to charitable initiatives that benefit those in need and showcase Bahrain's humanitarian spirit and look forward to work closely with Smile to support cancer-stricken kids and their families in Bahrain" said Ms. Haider.
For his part, Future Youth Society chairman Mr. Subah Al Zayani praised AUB support to "Smile" initiative, based on the importance of the message and the responsibility "Smile" carries, enabling the promoters to boost programs the quality of programmes and services provided to cancer-stricken children.
Mr. Al Zayani further pointed that these donations boost Smile's programmes and services with the required effectiveness. Some of Smile's programmes Abjad educational programme, psychological support programme, fitting rooms for kids and much more.