The Ultimate Gahwah Experience
Coffee has been an integral part of many professionals' lives as a starter for the day, stimulator during burdened hours and furl for the creative process. It's the same passion that has brought forth something unique in the island- Gahwah 360° .
Esam Hadi retired from his long 37 years careers in the field of Information Technology in 2016 and took with him the everlasting passion for Arabic Coffee. The fragrance of his uniquely blended coffee, soon started to entice the coffee lovers in the island.
On January 7, 2017 Gahwah 360°  was launched as an instant and easy preparing Arabic Coffee in three blends, namely Shaqrah, Samrah and Sodah. The initial customers for Gahwah 360°  were family members and friends who collected Gahwah in sachets for 1 Liter Dallah. Social media promotions and the participation in small exhibitions familiarized Gahwah 360°   to the customers who soon returned with more customers for this quality product. The new blend Hanteya and new size of sachets for ½ Liter Dallah came to life upon the customer's feedback.
As the number of customers and demand for Gahwah 360° increased, Esam Hadi started to distribute the products through two outlets in Riffa and A'ali.  The sales outlets have increased to eight in the successive years. Three cafes in Abu Dhabi offer coffee Gahwah 360°  for their customers and sales representative for Gahwah distribution in the UAE.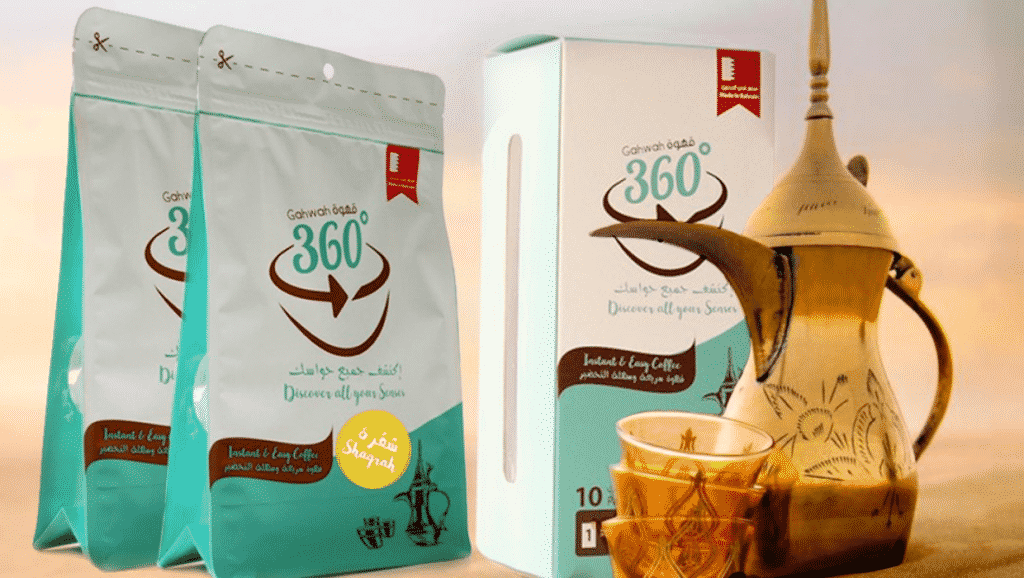 Gahwah 360° gained much appreciation during Bahrain Coffee and Chocolate Exhibition and gathered many regular GCC customers. They started to receive invitations to join many big events and were part of Bahrain Tourism Festival City and Food Festival, Bahrain Pavilion in Dubai Gulfood, and Sheikh Zayed Heritage Festival in Abu Dhabi where they introduced a new blend for the UAE, namely 'Sultana'.
A Café recognized the swiftness in producing Arabic quality Arabic coffee with consistent taste using Gahwah 360°  and tied up with the product. Gahwah 360°  also partnered with, a confectionery shop and an ice cream shop and this was the first time any Arabic coffee producer provided such business model. Gahwah 360°  started to provide more cafes and restaurants with different sizes of coffee according to their request or according to the sizes of the Dallah or the cups they use.
Gahwah 360°  added a new product line with boxes/bags of Gahwah sachets, cups and wooden spoons. They added new Gahwah products in the size of cups in boxes that simplified the preparation of Gahwah anywhere and anytime and became a travel companion for many customers. The latest addition of French coffee for young people in cups consisting of chocolate, hazelnut, milk and coffee, attained great response from many customers.
Gahwah 360° participated again in the Bahrain Coffee and Chocolate Exhibition and this time their booth was bigger and customers were coming specially to taste the Gahwah. They came to taste and buy the best Arabic Coffee in GCC.
In 2019, Gahwah 360° participated in Bahrain Tourism Festival City and Food Festival, also joined again the Bahrain Pavilion in Dubai Gulfood and won the Best Productive Family Prize awarded by H.R.H Princess Sabeeka Bint Ibrahim Al-Khalifa.