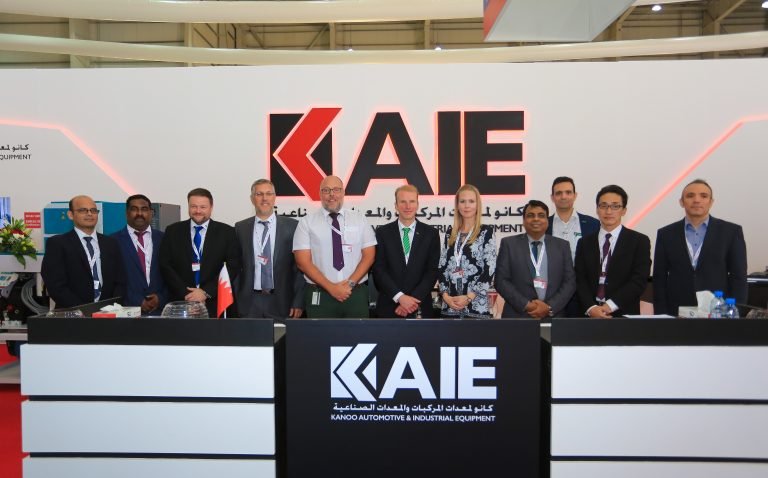 Kanoo Automotive and Industrial Equipment (KAIE) a subsidiary of the Ebrahim K. Kanoo conglomerate, has recently signed an official agreement with partners Butzbach to expand their portfolio to include hangar doors, on the side-lines of the Bahrain International Air Show (BIAS) 2018.
KAIE General Manager; Mr. Jamie Bowen, and Butzbach Area Manager; Mr. Simon Jones, were present at the KAIE booth in the Trade Zone with functioning replicas of Butzbach's most popular products.
The Butzbach Group is the leading provider of hangar doors to owners of business aircrafts, international airports, aircraft manufacturers, MRO companies and military installations. The company has installed more than 750 hangar door systems worldwide. In Germany, Butzbach recently installed a sliding door for the new Lufthansa Technik hangar at Berlin Brandenburg Airport, which is set to open in 2020.
On this occasion, Mr. Jamie Bowen stated, "Butzbach has partnered with KAIE for some time now and their products are installed at many outlets in Bahrain. This new exclusivity deal will help both companies grow their local and regional customer base and provide local companies with the best international products and the professional aftersales service that KAIE is renowned for."
Expressing enthusiasm at the new deal, Mr. Simon Jones commented, "KAIE and Ebrahim K. Kanoo are providing our local customers steady aftersales support along with a dedicated service team, which operates around the clock. We know that this exclusive partnership will further enhance our business opportunities in Bahrain and the region."