Inter professional bodybuilder, Sami Al-Haddad, has extended deepest thanks and appreciation to His Majesty King Hamad bin Isa Al Khalifa for his constant interest in sports and athletes.
He also expressed pride in being granted by HM the King the first passport that recognises sports as an official profession, stressing that the royal move is an honouring for all Bahraini athletes.
Al-Haddad lauded the interest and support of HM the King's Personal Representative for Charity Work and Youth Affairs, Supreme Council for Youth and Sports Chairman and Bahrain Olympic Committee President, HH Shaikh Nasser bin Hamad Al Khalifa, under whose leadership, he said, the Bahraini sports movement has made quantum leaps.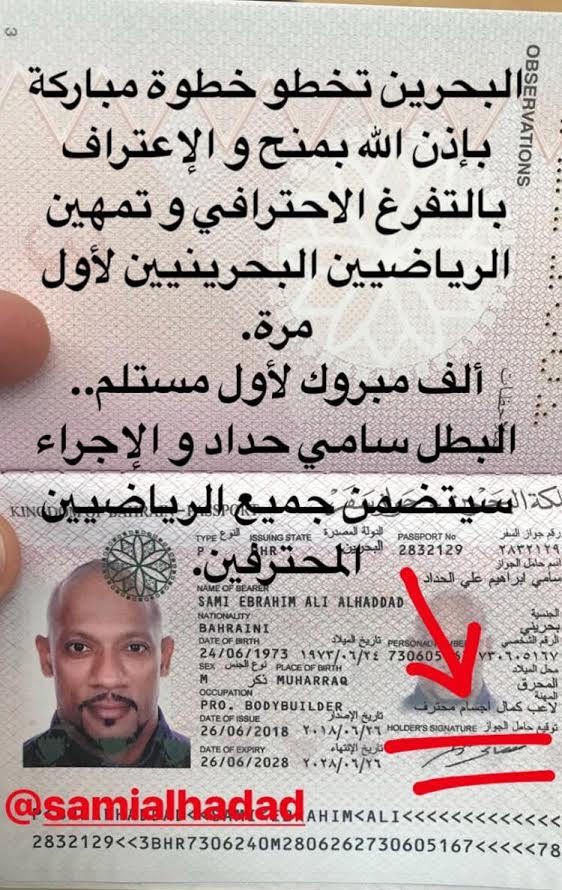 "It is a great honour to be the first professional athlete in the Kingdom of Bahrain. I am proud of being granted the passport from by HM the King in the presence of HH Shaikh Nasser at a historic moment." He said.
He stressed that the recognition of sports as official professions affirms HM the King's unwavering support for the sports and youth movement in the kingdom, noting that the royal gesture
will encourage athletes in Bahrain to be more creative.
Al-Haddad said that he was intending to retire after his participation in IFBB Pro Spain, where he clinched a gold medal, but his honouring by HM the King had motivated him to continue playing for the next 10 years.