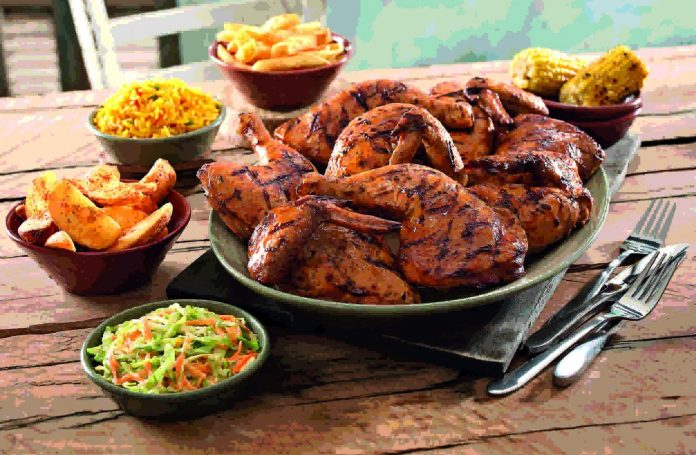 Our humble beginnings
The tongue-tantalising story of Nando's, started in the small Johannesburg suburb of Rosettenville in South Africa in 1987, when 27-year old Robbie Brozin was invited by his good friend Fernando Duarte to a small Portuguese restaurant called Chickenland so that he could taste their flame-grilled PERi-PERi chicken.
Brozin was smitten. "I knew nothing about the food business, I just knew that it was the best chicken I had ever tasted," he says. The two were so impressed with the taste that they decided to buy the restaurant – and change the way the world thinks about chicken too.
Although that "love at first taste" has turned into one of the world's leading, emerging fast casual restaurant brands, the spirit of that humble eatery in Rosettenville still remains today.
The fire and passion of Nando's soon spread to all corners of the globe. It was no coincidence that the Barcelos Cockerel was chosen as the symbol to identify Nando's around the world. Like the Portuguese explorers of yesteryear, Nando's believes in the legend of Barcelos Cockerel and its association with faith, justice and good luck. But it was not just good luck that would help spread the Nando's flame – it is the good people that Nando's attracted along the way that made it all possible (not forgetting the exceptional PERi-PERi Chicken that everyone loves).
Our people
Nando's is not just about chicken and it will never be just about chicken. The spirit of Nando's has attracted other people with fire in their bellies. People who have embraced the values of pride, passion, courage and integrity – spreading the fire and developing a culture unique to Nando's. Through these people the Nando's spirit has become universal, proudly feeding the souls and appetites of people worldwide. These Nando's people are known as Nandocas – members of the Nando's family. They create the Nando's culture and they make our company what it is.  Proof that Nando's works hard to create an environment where the philosophy of "it's the people who make the chicken" is taken seriously is that Nando's in the UK was named the Best Company to Work for, in that country in 2010.
Our food
Many a scholar of culinary excellence has tried to pinpoint what makes Nando's PERi-PERi chicken so delicious. Some say it's the uniqueness of Nando's overnight marinade, a blend of flavour and fire. Some say it's the continual basting with Nando's PERi-PERi during the grilling process and some say it's the method of butterfly-grilling on an open flame for all to see. There are also those who say it is because Nando's chicken is so delicious, it makes you feel good about yourself. The intelligent scholar knows that it is a combination of all of the above along with our intangible ingredients like passion and pride that make our chicken what it is.  However, we don't like to talk too much about the taste of our chicken, we prefer people to experience it for themselves. For us, there is nothing more satisfying than seeing the reaction of a Nando's virgin having their first Nando's experience.
Nando's Restaurants. Minha Casa e Sua Casa.
Walk into any one of our restaurants around the world and you will know you are in a Nando's, not because they all look the same – they all have their own unique characteristics and design – but because the promise of the Nando's experience is universal. You will find the same warm friendly service, delicious chicken, and a relaxed, informal atmosphere from New Zealand to Canada and in between. In our restaurants, we encourage noise, we encourage people to use their hands when eating and we encourage family gatherings in the spirit of the good old days. Our motto is that children should be heard and seen eating. Our only table manner request is that people smile and enjoy themselves.
Nando's PERi-PERi chicken restaurant is now open at Seef Mall, Seef District-1st floor Near to Magic Island.
Zayed Town: 17 225 100 or 17 210 763
Juffair: 17 825 100 or 17 825 339
Seef Mall-Seef District: 17 780 100