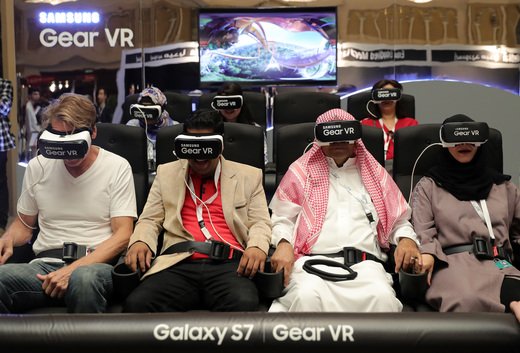 At the Dubai International Film Festival film fans are invited to experience the latest virtual reality films in a whole new dimension at the du VR Cinema powered by Samsung giving Festival goers the opportunity to watch films like they've never done before.
Located within the Festival Headquarter at the Madinat Jumeriah, the home of DIFF the du VR Cinema powered by Samsung will bring to life the new programming section DIFFerent REALITY which promises cinephiles and industry professionals an unmatched cinematic viewing experience at the Festival, which runs from 7-14 December, 2016.
Ten of the world's most advanced and anticipated VR films, including five world premieres from some of the leading creators and emerging voices in this new medium will unfold around you in 360 degrees at the du VR Cinema powered by Samsung.
DIFF's Artistic Director, Masoud Amralla Al Ali commented on the new segment and support from du, the UAE-based telecommunications service provider and Samsung: "du and Samsung have always been champions of VR and 360-degree technology to evolve storytelling. We are thrilled they have partnered with us this year to showcase our DIFFerent REALITY lineup, talking DIFF film fans for the first time on a fully immersive VR journey and a providing them with a glimpse into the future. du and Samsung's valuable support has ensured DIFF can be at the forefront of bringing the latest and advanced film-making techniques to DIFF and we look forward to presenting storytelling in a whole new way with them."
Samer Geissah, Vice President Consumer New Business & Innovation, du, said: "Creating exciting and innovative digital experiences for our customers is a key priority for us, and VR presents a promising new frontier in this aspect. We are glad to showcase advanced VR titles at DIFF this year, which we hope, will open a new realm in digital storytelling."
"Virtual reality is transforming the way we experience entertainment today, bringing us closer than ever to the narrative in films. At Samsung, we are always looking for ways to push the boundaries and create the future, and powering the DU VR cinema at DIFF this year is enabling us to show the power of our VR and 360-degree technology in a whole new setting here in Dubai. We hope that seeing films in this format can inspire local filmmakers to create more VR content for the public to enjoy," said Tarek Sabbagh, Head of IT and Mobile (IM) Division at Samsung Gulf Electronics.
The 13th edition of DIFF will see films screened over eight days at the Madinat Jumeirah Arena, Madinat Theatre, Souk Madinat Jumeirah and VOX Cinemas, Mall of the Emirates and THE BEACH – opposite JBR. Cinemagoers will be able to buy tickets from the DIFF box office, which is now open www.dubaifilmfest.com and at the box office at VOX Cinemas Mall of the Emirates. Tickets will also be available from the Madinat Arena, Madinat Jumeirah from Tuesday, December 6th and from the Madinat Theatre, Souk Madinat Jumeirah on Wednesday, 7th December.