Zahra Al Safi, the Bahraini student has made the Kingdom proud by winning a Korean-language speech contest after beating 1,918 competitors from 90 King Sejong Institutes worldwide. As Zahra is looking forward to specializing in the Korean language in order to become a competent translator and interpreter in Arabic and Korean, she'll indeed be the Cultural Ambassador for the Korean language in Bahrain.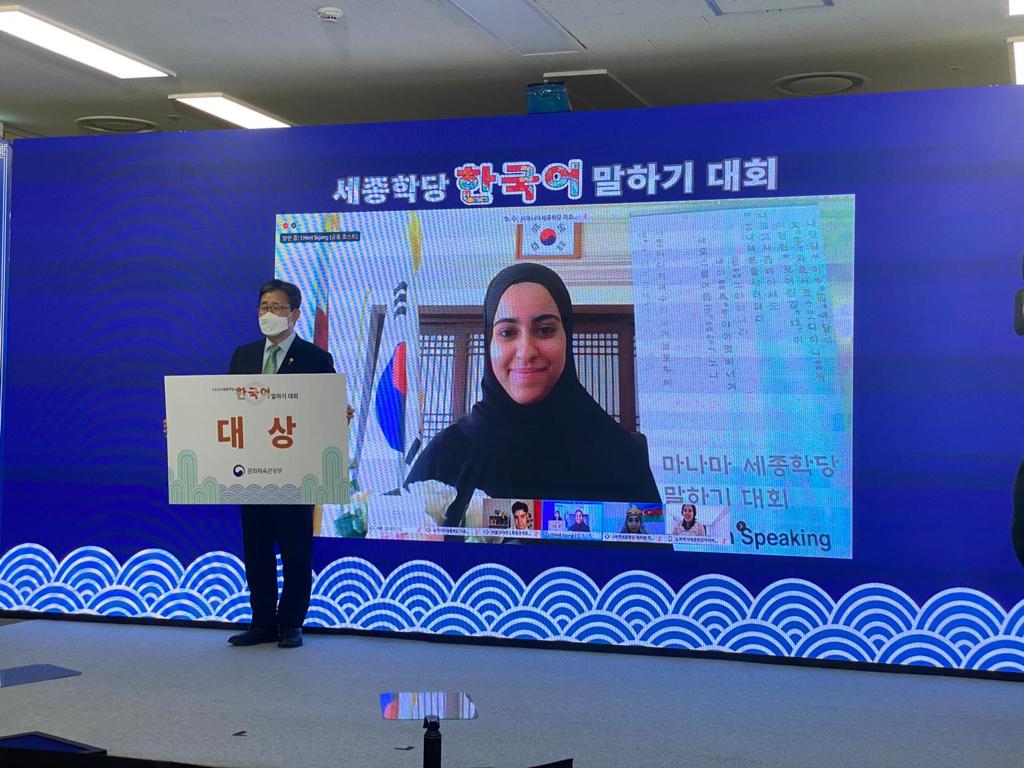 Congratulations on winning the Korean-language speech contest after beating 1,918 competitors from 90 King Sejong Institutes worldwide. How did you develop an interest in the Korean language and how long you're studying the language?
I'm really interested in languages and linguistics in general. My mother tongue is Arabic, and I learn English since my childhood, but I always wanted to learn a new language. I started learning Korean by myself at first. Starting from the alphabet of the Korean language, to vocabulary and grammar, everything was unique and interesting to learn. I'm now attending regular classes in Sejong Institute following a well-structured curriculum to improve my level and enhance my skills. It has been 4 years now since I started learning Korean.
What was the preparations for the contest?
The Sejong Institute provided all the final round participants with individual online classes with Korean teachers and prepared us to answer any questions. We wrote our speeches and practiced with the teachers to improve our pronunciation and speech content. Those online classes provided us with everything we needed and helped us in each step to finalize a high-quality speech that speaks up our thoughts.
What was the procedures to take part in it?
We initially had a Bahrain based competition and the winner got the chance to represent Bahrain in the international contest. Unfortunately, we didn't travel this year and presented our speeches in the institute online. After I was selected from Bahrain, we went through several more rounds (evaluation of speech videos, interviews, etc.) and 10 of us were selected to participate in the final round.
What was the topic/theme of the contest?
The topic of this year's contest is "The Korean I Met, The Korean I Will Meet". As you know, learning a new language comes with many opportunities to meet new people and get to know new cultures deeply. In my speech, I talked about the interesting features and characteristics of Korean people that caught my eyes as a foreigner. One of the points I wrote about, is how Koreans praise others a lot. They have always appreciated the fact that I'm learning their language and it's one of the things that motivated me to study the language.
You're a Quantity Surveying Student at BUB College of Engineering. Your passion for language is entirely different from your academics. What other hobbies/interests that you pursue?
I believe that each student should improve other skills even if they are not related to the major he/she is studying. For me, learning new languages is what I enjoy. I recently started learning Chinese as well. I love to read and study deeply about my mother language, Arabic.
Who encouraged you throughout this unique journey?
Many people helped me and encouraged me throughout this journey, and this is what made
it even more special and unforgettable. My teachers at Manama Sejong Institute helped me a lot from the beginning to deliver the best speech possible. The Korean Embassy also encouraged me to perform well. BUB as well as supported me in every way possible and celebrated this achievement with me. I'm really thankful for them all.
Have you participated in any other speech competitions?
This is my first speech contest in Korean. But I've always enjoyed participating in Arabic and English speech contests in school.
What are your future plans for advancing with the Korean language?
I'll continue taking classes in the institute as well as for self-studying. Also, I hope to go to Korea and learn the language there, because I believe that it will help me improve my skills really fast.
What's your advice for anyone who's interested in learning the Korean language in the Kingdom?
These days, we have many opportunities in Bahrain for Korean language learners. Anyone who is interested can register for free classes in Manama Sejong Institute. Learning a new language is an interesting journey that comes with many opportunities and experiences. I really encourage everyone to learn Korean or any other language. It's a perfect way to look at life from another perspective.