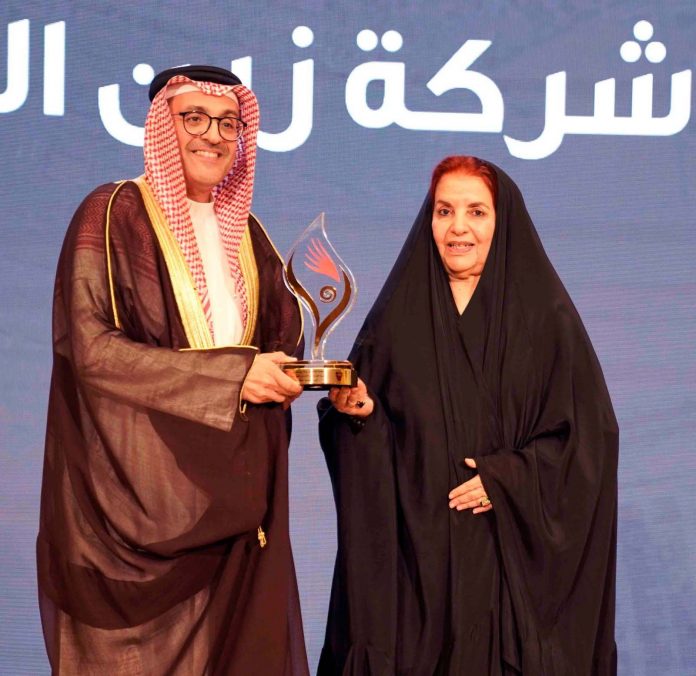 HE Shaikh Ahmed bin Ali Al Khalifa Zain Bahrain Chairman extended his sincere thanks and appreciation to Her Royal Highness Princess Sabeeka bint Ibrahim Al Khalifa, wife of His Majesty the King, President of the Supreme Council for Women on her significant efforts and contribution to ensure the Bahraini women award are well represented
in the work force as an essential member of the society. Making Bahraini women hold high competence positions in the Kingdom.
Commenting on the award, Zain Bahrain Chairman, "Zain Bahrain is delighted to receive the first recognition of the sixth edition of Bahraini Women Empowerment Award of HRH Princess Sabeeka bint Ebrahim Al-Khalifa,wife of HM the King, President of the Supreme Council for Women may God protect her, and would like to express his sincere gratitude to HRH Princess Sabeeka, towards Her Highness's efforts and plans to empower and develop Bahraini women in holding high positions in the workforce while facilitating gender equality, which is a significant part of Zain Bahrain's corporate sustainability program and is in harmony with Bahrain's Vision 2030."
Zain Bahrain Managing Director, Mohammed Abdulla Zainalabedin added
"It is an honour for Zain Bahrain to win an award of this nature. At Zain, we operate on a specific system whereby recognition and rewards are based on staff achievements. Part of that recognition involves providing our staff with opportunities to develop and fulfil their career potential. This applies equally to men and women. This is an essential requirement to empower all our employees to do the very best they can, every day. A requirement in a dynamic, growing business such as Zain. It is indeed gratifying to see our efforts rewarded by this first of its kind award in Bahrain ".
Zainalabedin continued. "This award recognizes our commitment to keep empowering all our employees and fulfil their career potential. Irrespective of their gender. The representation of female leadership promotions in 2019 have increased to 24%. Our female recruitment has increased from 15% to 34% through Zain Youth Program."