You must bend so you don't break.
Walking with masks. No lipsticks. No hugging. No handshake. Virtual meetings and parties. Being scared of anyone when they cough or sneeze.
Couple of months back this would have sounded absurd right? But we can't imagine life without these changes anymore. Designer masks have become part of the attire. Keys are used to press lift buttons. Life without Sanitizers have become unbelievable.
It's a sign of true adaptability.
Humans can change to any extent to survive. I love observing the before and after changes of the lockdown period to see the clear human behavioral change. People who were not ready to change with the new ways were left behind. The start of this era washed away lot of old patterns of thinking and we observed the first movers advantage here. The new way forced businesses to innovate, reinvent to continue to survive.
I was one of the stubborn one. Being a yoga instructor, I never thought anyone would want to learn yoga online how you could correct someone postures over the screen? It's impossible. But it happened. All of my students were really happy to continue even if online and I was surprised!!
Who knew we could go without social interaction. Who knew we could tolerate masks on our faces? Who knew we would be afraid of someone standing close to us. The pandemic tested how much we can bend without breaking
What I have learned from this phase? That if you set the path for a new normal, people will follow. In a place uncertainty where everyone is looking for direction to move in. They are looking for someone to take a step forward. No matter how absurd the idea maybe it will work as long as it's a step forward. To adapt we can go to any extent follow absurd ideas and patterns. Make sure you are the one taking the step forward and coming up with ideas rather than following them.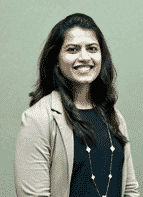 Riya Bhansali 
Yoga Teacher and Life Coach 
Follow her on 
Youtube :- Riya Bhansali,
Instagram :- Riyyog